The smart data logger for the Internet of Things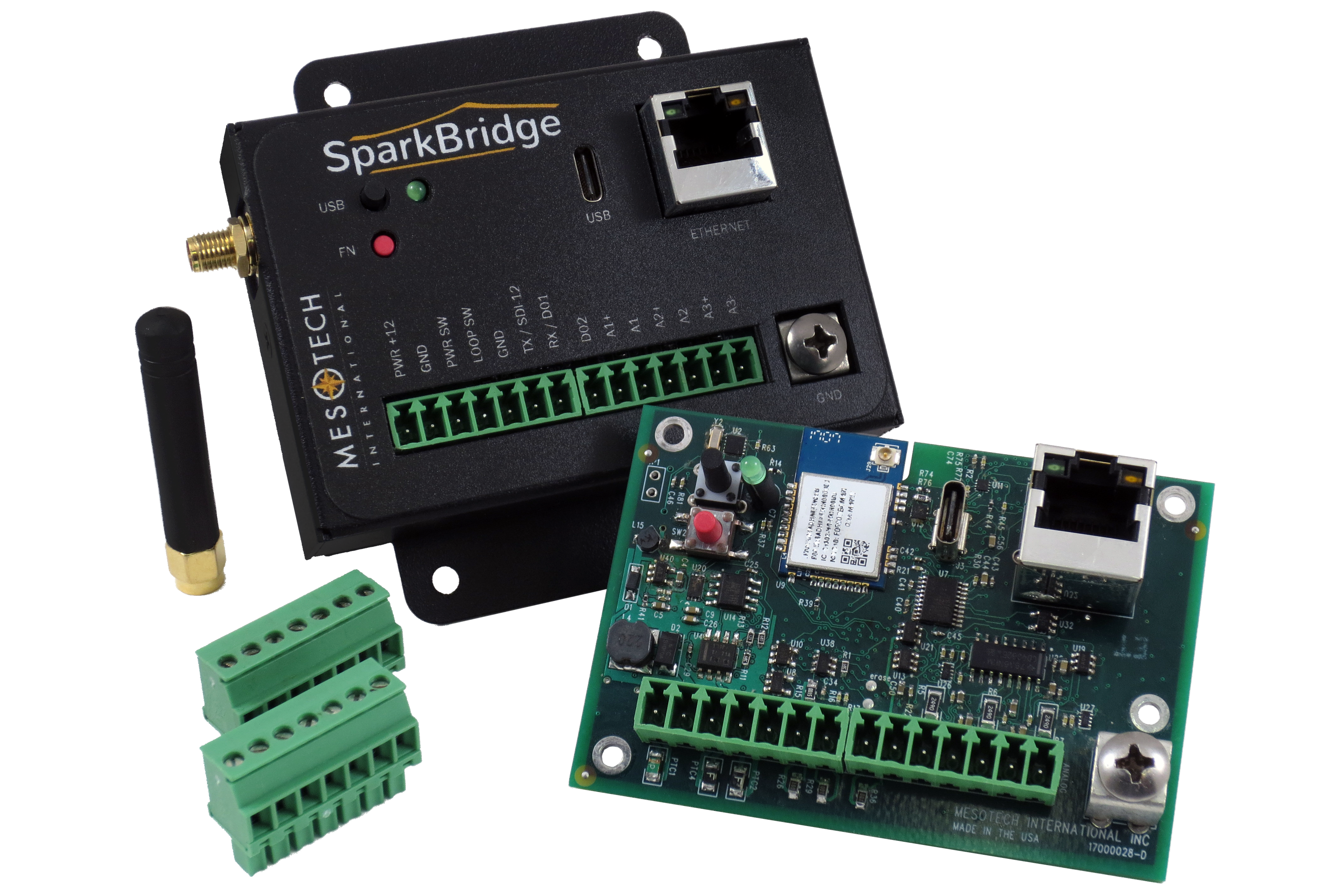 Setup takes about 10 minutes using our mobile app. If you can use a smartphone, you can use SparkBridge.
Don't need the cloud? Offload your data to a flash drive with a single button press.
SparkBridge One is a data logger and IoT gateway that works as well in a factory as it does outdoors.
Also available as a standalone circuit board for integration into your own product.
SparkBridge One sends data right to your phone. It can send data to any IoT platform using MQTT.
Connects to your network via WiFi or Ethernet.
Connect your new, existing, and legacy equipment to the cloud. SparkBridge One is an innovative Internet of Things (IoT) end point and smart data logger. Get data and alerts direct to your phone. Compatible with the SparkBridge Cloud IoT platform and mobile app. Includes built-in barometric pressure sensor. Supports AWS IoT platform and other IoT platforms that use MQTT. Download Datasheet
Includes:
- SparkBridge One IoT Data Logger
- Removable WiFi Antenna
- DIN Rail Mount
- Universal AC Power Adapter
- Free use of SparkBridge Cloud Service and Mobile App (up to 10 devices per account)
- Controlled environment monitoring

- Research projects

- Battery powered data collection

- California SB-88 Compliance

- Sustainable Groundwater Management Act
- Flow meters

- Well depth monitoring

- Weather stations and meteorology

- Soil moisture monitoring

- Indoor growing

- Solar powered monitoring stations

- Agriculture and farming
Industrial Internet of Things
- Connect legacy equipment

- Industrial Internet of Things Projects (IIoT)

- 4-20mA sensors and equipment

- DIN rail mounted IoT gateway
- Fleet and asset tracking systems

- Direct integration into new products

- Connected/smart city projects
The SparkBridge One circuit board option is perfect for integrating into your own product or enclosure. It includes all of the same functions and features as the complete data logger but without the enclosure and power supply. Custom integration options and accessories are available upon request.
Includes:
- SparkBridge One IoT Data Logger (Circuit board only)
- WiFi Antenna, SMA Female
- Antenna cable, U.FL to SMA Male, 4 inch
- Free use of SparkBridge Cloud Service and Mobile App (up to 10 devices per account)
---
Analog Inputs: 0-5VDC, 4-20mA, Pulse, Thermistor (single ended or differential)
Serial Inputs: RS232 / SDI-12
Outputs: Open Collector Outputs (2)
Built-in Sensors: Barometric Pressure
4-20mA Supply: Built-in 4-20mA Loop Supply (24VDC)
Log Memory: > 1 year
Connectivity: 100BaseT Ethernet, 802.11 b/g/n WiFi, USB Type C
IoT Platforms: AWS IoT, SparkBridge Cloud, MQTT
Operating Temp: -40 to 70C
Supply Voltage: 6-16VDC
Current Draw: 2.25mA to 90mA
Dimensions: 3.87 x 3.5 x 1.25 in
Mounting Hole Spacing: 2 x 3 in (C-C)
Mounting Options: Panel, DIN Rail
Weight: 5.5 oz